Devolution: 20 Predictions (June 23, 2009)


As cities, counties and states default on their obligations and unemployment insurance runs out, devolution sets in.


While some see a collapse of society in our future, right now I see devolution, not revolution. Devolution is both the process of degeneration and the surrender of governmental powers from central authorities to local authorities.

Devolution will take many forms. The key driver behind devolution is simple: there's not enough money to fund the status quo, so something has to be cut, axed, trimmed or devolved. Examples already abound: the number of school days in the year are reduced to shave expenses, two-times-a-week trash pickup is cut to once a week, etc.

The key constraint on devolution is also simple: the status quo power structure must be left intact. Nobody will willingly surrender their power, so devolution means services and front-end expenses will be cut in order to protect back-end administrative powers.

Thus public union bosses won't be suffering any big cuts in pay or benefits, and neither will their municipal and state administration counterparts. (Of course there will be symbolic cuts for PR purposes, but nothing deep.) What will be cut is part-time librarians, custodians, county park staff, etc.--the powerless people who actually serve the public.

As the states run out of money, they will surrender some limited powers to local authorities as a mechanism for ridding their budgets of certain costs. As cities and counties go broke, then they will devolve some modest authority to non-profit groups or volunteers.

As laid off workers' unemployment insurance runs out (yes, even the extensions run out as the states' UI funds drain to zero) then their lifestyles devolve/degrade: first, eating out and vacations go, then new clothing, then the second car, then college, then the house, and so on.

Devolution is a painful process, but the State (all government at all levels) and the Plutocracy (owners of capital and productive assets) vastly prefer devolution to revolution because devolution doesn't threaten the current status quo/Powers That Be at all.

Devolution depends on humanity's innate ability to habituate to nearly anything. Thus humans somehow adapt to concentration camps, bitter cold, intolerable heat, mind-numbing work, etc., especially if the new environment is introduced over time in stages.

Thus the middle class household might actually respond with an anger deep and hot enough to become political if their middle-class lifestyle was taken away in one swoop. But devolution insures that the process is akin to the famous analogy of the boiled frog: if the temperature of the water is increased slowly enough, the frog never notices (or so the story goes) that he is being boiled alive.

The middle class household forced to sell everything and move (surreptitiously) into a storage locker or into an RV will feel a shock of recognition that all has been lost, and that perhaps forces beyond their own personal decisions might be at work: forces which benefitted from Federal bailouts, for instance, in a way they can never hope to. (That $150 billion transferred through AIG to Goldman Sachs would have funded a very large national unemployment insurance pool.)

But if their middle class life is taken away from them over time, in pieces, they will habituate to each loss without any political enlightenment; they have fully internalized the MSM propaganda (and recall the mass media is owned by less than 10 global corporations) that the "problem" is their own, not "the system's."

A revolution occurs when great numbers of people realize that the system benefits the Powers That Be, not the citizenry, despite the PTB's constant assurances that this is the very best system on Earth.

So the surest way to secure one's lofty privileges and powers is to convince the people who have lost everything that it's all their own fault; if they were just smarter, possessed more degrees, had better judgment, weren't hooked on anti-depressants, etc., then they would be jolly, wealthy, etc.

In a similar fashion, local government will attempt to manage the degeneration of their services in such a way that the public does not realize it's being boiled. If the trains and buses all stopped running, people might be angry enough to turn off their TVs and demand some actual, real political change. But if services are slowly degraded over time, the public will sigh and habituate to it.

Meanwhile, the police chief, mayor, union bigwigs, et al. will be driving by in their chauffeured vehicles, making sure "the little people" are swallowing the devolution whole. The politicos' Masters, the Plutocracy who fund their campaigns, will fill their coffers at election time as long as nothing rocks the boat. If the citizenry gets restive, then the politicos will find their funding drying up (Heaven forbid!).

Here are some random devolution predictions for the coming year or three. Many are already visible, so the "prediction" is simply a recognition of a rising trend.

1. Listings on craigslist announcing the selling/giving away of the entire contents of storage lockers will rise.

2. The number of people living in storage lockers "illegally" will rise.

3. Citizens with numerous outstanding traffic tickets will abandon their vehicles when "booted" (locked) by cities as the cars are worth less that the fines due. Cities will start auctioning/scrapping hundreds of abandoned vehicles.

3. The dumping of abandoned clothing, furniture, old computer equipment, etc. on sidewalks and public parks/byways will increase dramatically.

4. Homeless camps will appear in parks and locales which were previously considered off-limits to such public poverty.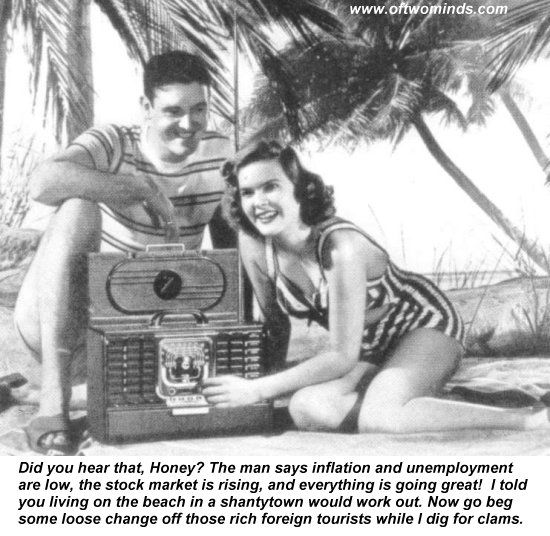 5. The number of citizens cited/arrested for unpaid moving and parking violations will rise; judges will begin dismissing the amounts due as the citizens before them have no means of paying the huge fines.
6. Government at all levels will devote increasing resources to revenue collection; new laws giving the State (all levels of government) new powers to stripmine private assets will be passed with strong support from government-dependent special-interests.
7. Government at all levels will assign domestic intelligence assets to the search for additional tax revenues; these actions will be strictly secret.
8. A major sports franchise or two will declare bankruptcy.
9. Spontaneous protests (over evictions, reductions in service, etc.) will increase both in frequency and in the number of participants.
10. Tourism will devolve to visiting relatives and/or car camping; hotels and restaurants in tourist-dependent locales will start closing in ever increasing numbers. Only the top 10% "high-caste" professional and government-technocrat class will be able to travel overseas.
11. Cities and corporations which were previously considered immune to the "recession" will declare losses and huge layoffs.
12. Houses which were snapped up in 2009 for $350,000 on the basis that they once sold for $550,00 will be auctioned for less than $200,000 in late 2010.
13. Local governments outside of the Rust Belt will start aggressively taking over abandoned houses as banks fail and ownership of the properties becomes ambiguous.
14. Local government fines, fees, permits and other business-related licensing will plummet, decimating what was once considered a "safe" revenue stream.
15. State and local government services will rapidly devolve: twice-a-week trash pickup will devolve to once a week; fire stations, libraries and schools will be consolidated; other services will become sporadic.
16. State and local government hikes in fees to use parks, park downtown, drop junk at the dump, get a building permit, etc. will backfire: people will stop going to parks, stop shopping downtown, start dumping junk at night on quiet streets now that the dump is too expensive and start remodeling without permits. Contrary to government expectations, revenues will actually drop faster after all these fees are raised.
17. Church/temple/mosque attendance will rise, as will participation in church/temple/mosque events.
18. Major rock/pop concert tours will be cancelled due to low ticket sales; acts which were "guaranteed to mint millions" wll be forced to cancel their tours.
19. Veterinarians will demand cash to examine pets; people will increasingly be unable to pay for costly procedures for their pets (teeth cleaning, hip replacements, chemotherapy, etc.). Vets will consolidate/close their doors.
20. State/county attempts to openly raise taxes will increasingly trigger tax rebellions and demonstrations; the trickle of residents leaving high-tax states and counties will grow to a flood.
Bonus prediction: California's current deficit of $24 billion will widen by another $10 billion in 2010. What was once considered "impossible"--state default on bonds, pensions and much else--will come to be viewed as inevitable.
The political propaganda which infuses every moment of our lives tries to maintain an artificial distinction between our Tweedledum and Tweedledee political parties: The Dees are all for using the power of the State (all government) to "help the little people" while the Dums are all for unleashing the power of free enterprise, a.k.a. the 1% who control the capital and 2/3 of all productive assets in the nation (the Plutocracy).
The truth is that the State and the Plutocracy are two sides of one coin; each rules with the support and complicity of the other. The distinction drawn between them is a useful distraction, somewhat like drawing a distinction between professional sports teams who swap players in the off-season. "My team" is an abstraction which serves the goal of enriching its owners; "fan" loyalty draws smirks from everyone in the know even as they proclaim "fan day" and "fan appreciation day." (The crosstown rival team is of course "the hated enemy.")
As we watch devolution in action over the next few years, observe how it is managed so the hapless frog won't jump from the pot. That is what they're counting on, of course; a devolution passively accepted by a media-duped, gadget-addicted, self-blaming, depressed, drugged-out populace.
Put another way: devolution is what happens while the Delusionol (tm) wears off.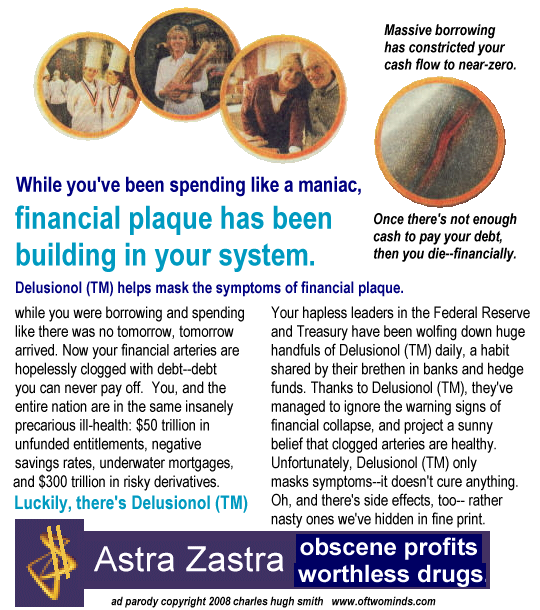 Our previous lists of hot reading and viewing can be found at Books and Films.


Of Two Minds is now available via Kindle: Of Two Minds blog-Kindle



Of Two Minds reader forum (hosted offsite, reader moderated)
---

"This guy is THE leading visionary on reality. He routinely discusses things which no one else has talked about, yet, turn out to be quite relevant months later."
--Walt Howard, commenting about CHS on another blog.

---
NOTE: contributions are acknowledged in the order received. Your name and email remain confidential and will not be given to any other individual, company or agency.
Thank you, Gene M. ($50), for your exceedingly generous contributions via mail to this site and your equally appreciated correspondence. I am greatly honored by your support and readership.


Or send him coins, stamps or quatloos via mail--please request P.O. Box address.
Your readership is greatly appreciated with or without a donation.
---
For more on this subject and a wide array of other topics, please visit my weblog.







All content, HTML coding, format design, design elements and images copyright © 2009 Charles Hugh Smith, All rights reserved in all media, unless otherwise credited or noted.

I would be honored if you linked this wEssay to your site, or printed a copy for your own use.