The Master Narrative Nobody Dares Admit: Centralization Has Failed (June 21, 2012)


All centralized systems, open and shadow alike, act as heavy taxes on the society and economy. This is why they cannot compete with the forces of networked decentralization.

The primary "news" narrative may be the failure of the euro, but the master narrative is much, much bigger: centralization has failed. The failure of Europe's "ultimate centralization project" is but a symptom of a global failure of centralization.

Though many look at China's command-economy as proof that the model of Elite-controlled centralization is a roaring success, let's check in on China's stability and distribution of prosperity in 2021 before declaring centralization an enduring success. The pressure cooker is already hissing and the flame is being turned up every day.

What's the key driver of this master narrative? Technology, specifically, the Internet. Gatekeepers and centralized authority are no match for decentralized knowledge and decision-making. Once a people don't need to rely on a centralized authority to tell them what to do, the centralized authority becomes a costly impediment, a tax on the entire society and economy.

In a cost-benefit analysis, centralization once paid significant dividends. Now it is a drag that only inhibits growth and progress. The Eurozone is the ultimate attempt to impose an intrinsically inefficient and unproductive centralized authority on disparate economies, and we are witnessing its spectacular implosion.

Centralization acts as a positive feedback, i.e. a self-reinforcing loop that leads to a runaway death spiral. Centralize the entire banking sector into five corporations and guess what happens? They buy access to the highly centralized power centers of the Federal government. Like the HIV virus, centralized concentrations of capital like the five "too big to fail" banks disrupt the regulatory "immune response" that was supposed to control them.

This feedback between centralized capital and centralized government cannot be controlled by more rules and regulations--the two partners in domination will subvert or bypass any such feeble attempts with shadow systems of governance and control of the very sort we now see dominating economies and governments around the globe.

Centralization itself is the disease, and devolving power to decentralized nodes based on the transparent power of the Web is the cure. The authorities and Elites attempting to maintain their centralized fiefdoms of power are desperately trying to control the technology of the Web, but disruptive technology that offers stupendous improvements in efficiency and productivity cannot be put back in the genie's bottle. The authorities can try, but they will fail.

The analog to the printing press is but one example. The centralized authorities of the Holy Roman Empire tried to limit the citizens' access to the Bible and other books, and as their failure became evident they ramped up their oppression to extremes: printing the Bible was a "crime" punishable by death.

Despite their almost total dominance of society and the economy, the centralized authorities failed to limit the technology of printing and distributing books.

Centralized authorities face an impossible double-bind: if they limit access to the Web, their economic growth is doomed, and thus eventually so is their power as the impoverished and oppressed populace rises up to overthrow their failed Elites. But if they enable widespread access to the Web, then the populace eventually realizes the centralized authorities and Elites are burdensome hindrances to liberty and prosperity.

The highly centralized Elites controlling China are engaged in a desperate campaign to constrain the Web in China to what they deem supportive of their regime. The "Great Firewall of China" reportedly has tens of thousands of employees monitoring and censoring content. Hyper-nationalistic rants are "enabled" to spread virally, while inquiries into official over-reach and misconduct are quickly suppressed.

You can't fool Mother Nature for long, and the Chinese are trying to tame forces akin to Nature.

We already saw this dynamic play out with the Soviet Union. In the former U.S.S.R., networked computers were understood to be a serious threat to political control by centralized authorities, so access was strictly limited. Scientists and mathematicians in the U.S.S.R. were relegated to working with paper and pencils because this was "politically acceptable."

Denied access to transformative technologies, the economy and society of the U.S.S.R. withered and eventually expired.

China has played a very quick game of catch-up based on a unique set of factors:

1. An abundance of low-hanging fruit to be picked, both domestically and globally. If you watch documentaries filmed in China in the early 1980s, villagers were harvesting bamboo by hand and the village "theater" was one black-and-white television. By the time I first visited China in 2000, there was already a glut of cheap TVs and massive overcapacity in TV manufacturing.

2. An abundance of mobile global capital to fund the initial industrialization.

3. The ease of stealing/copying existing technology. It's always easy to steal/copy existing technologies: strip down the motorbike to its parts, machine-tool a factory to make the parts and voila, you are soon producing "Yamaka" motorbikes in quantity (and drinking "Starbuck" coffee).

But once the low-hanging fruit has been picked, you have to develop new technologies on your own to keep growing. The U.S.S.R. was able to keep up by stealing technology for decades, but once the pace of innovation slipped from centralized labs (where spies could be highly effective) to decentralized networks of innovation, the game was over: stealing technology became inefficient and/or impossible on the necessary scale and timeline to keep up.

The Web also feeds social innovations. Centralized authorities move with glacial trepitude because any change, no matter how modest, steps on the exquisitely sensitive toes of some vested interest, protected fiefdom or favored Elite. So while the centralized Elites and their apparatchiks in government are detailing more regulations of the buggy-whip industry, the entire industry is bypassed by social and technological forces beyond the control of the Elites and their flunkies and factotums.

The forces of centralized authority will not relinquish their power easily. In Egypt and many other quasi-feudalistic nation-states, the Empire of centralized Elite authority is striking back, often via the "shadow" systems of governance and control they established behind the thin veneer of legitimacy created by their organs of propaganda.

But all centralized systems, open and shadow alike, act as heavy taxes on the society and economy. Their attempts to retain control will fail because of the conundrum outlined above: if they succeed in stifling the Web and the powers of decentralization, their economy will wither and their impoverished people will eventually tire enough of poverty to rise up and crush their oppressive Elites.

If they allow access to the Web and the innovation-driven power of decentralized networks of knowledge, collaboration and information, then their political and financial control will be eroded. Either way, disruptive technologies will dismantle their power base and wealth.

Here in the U.S., our Central State and Financial Elites are also desperately trying to maintain their control, even as their control strangles the economy and social innovation. Being controlled by five "too big to fail" banks and six media corporations is like being dominated by the buggy-whip industry and the horse-manure-collection industry.

The way forward is to dismantle the five banks and six media companies and allow 500 banks to compete in a transparent market but be unable to buy other banks or other companies. If there are 500 banks that are forced to compete in a transparent marketplace, it will be very difficult for those corporations to purchase the political power the TBTF banks own.

The Federal Reserve is the ultimate centralized horse-manure-collection industry. Like the Catholic Church trying to control Gutenberg's printing press, the Fed is terrified of transparency, liberty, competition and the technological forces of networked decentralization. Though those in power cannot dare contemplate it, their highly centralized institution and the chokehold of its authority are already doomed.

Centralized control leads to stagnation and poverty, which leads to the overthrow of oppressive political Elites. If the centralized Elites attempt to corral the Web to serve their own narrow self-interests, it will overflow their narrow channels and erode their power. Either way, their attempts to control disruptive technology will fail. Their only choice is which path to destruction they wish to tread.



---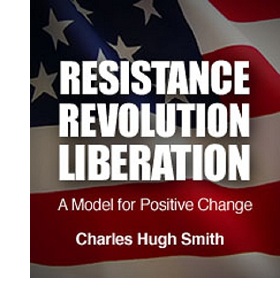 Resistance, Revolution, Liberation: A Model for Positive Change (print $25)
(Kindle eBook $9.95)
Read the Introduction (2,600 words) and Chapter One (7,600 words) for free.
We are like passengers on the Titanic ten minutes after its fatal encounter with the iceberg: though our financial system seems unsinkable, its reliance on debt and financialization has already doomed it.

We cannot know when the Central State and financial system will destabilize, we only know they will destabilize. We cannot know which of the State's fast-rising debts and obligations will be renounced; we only know they will be renounced in one fashion or another.

The process of the unsustainable collapsing and a new, more sustainable model emerging is called revolution, and it combines cultural, technological, financial and political elements in a dynamic flux.

History is not fixed; it is in our hands. We cannot await a remote future transition to transform our lives. Revolution begins with our internal understanding and reaches fruition in our coherently directed daily actions in the lived-in world.
---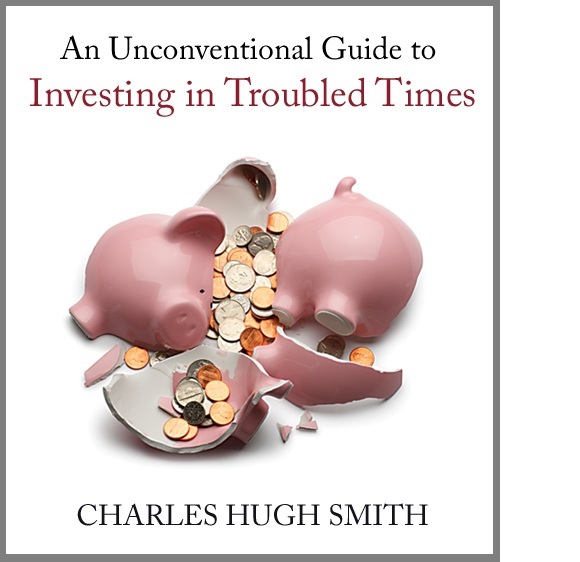 If this recession strikes you as different from previous downturns, you might be interested in my book An Unconventional Guide to Investing in Troubled Times (print edition) or Kindle ebook format. You can read the ebook on any computer, smart phone, iPad, etc. Click here for links to Kindle apps and Chapter One. The solution in one word: Localism.


Readers forum: DailyJava.net.





Order Survival+: Structuring Prosperity for Yourself and the Nation (free bits) (Kindle) or Survival+ The Primer (Kindle) or Weblogs & New Media: Marketing in Crisis (free bits) (Kindle) or from your local bookseller.
Of Two Minds Kindle edition: Of Two Minds blog-Kindle
---

"This guy is THE leading visionary on reality. He routinely discusses things which no one else has talked about, yet, turn out to be quite relevant months later."
--Walt Howard, commenting about CHS on another blog.

---
NOTE: gifts/contributions are acknowledged in the order received. Your name and email remain confidential and will not be given to any other individual, company or agency.
| | | |
| --- | --- | --- |
| | Thank you, Donald M. ($10), for your most generous contribution to this site--I am greatly honored by your support and readership. | |
---
Or send him coins, stamps or quatloos via mail--please request P.O. Box address.
Subscribers ($5/mo) and contributors of $50 or more this year will receive a weekly email of exclusive (though not necessarily coherent) musings and amusings.
At readers' request, there is also a $10/month option.
The "unsubscribe" link is for when you find the usual drivel here insufferable.
Your readership is greatly appreciated with or without a donation.
---
For more on this subject and a wide array of other topics, please visit my weblog.





All content, HTML coding, format design, design elements and images copyright © 2012 Charles Hugh Smith, All rights reserved in all media, unless otherwise credited or noted.
I would be honored if you linked this essay to your site, or printed a copy for your own use.
Terms of Service:
All content on this blog is provided by Trewe LLC for informational purposes only. The owner of this blog makes no representations as to the accuracy or completeness of any information on this site or found by following any link on this site. The owner will not be liable for any errors or omissions in this information nor for the availability of this information. The owner will not be liable for any losses, injuries, or damages from the display or use of this information. These terms and conditions of use are subject to change at anytime and without notice.