The "Solution" Is Collapse (June 8, 2012)


So the root problem is the system, human nature, blah blah blah. There are no "solutions" that can fix those defaults. Thus the "solution" is collapse.

Policies create incentives and disincentives. Some are intended, some fall into the category of unintended consequences. Regardless of their intention, policies that create windfalls ("easy money") or open spigots of "free money" (or what is perceived as free money by the recipient) quickly gather the allegiance of everyone reaping the windfall or collecting the free money.

This allegiance is soon tempered into political steel by self-justification: humans excel at rationalizing their self-interest. Thus my share of the swag is soon "absolutely essential."

Humans don't need much incentive to pursue windfalls or free money--seeking windfalls in the here and now is our default setting. Taking the pulpit to denounce humanity's innate greed, avarice and selfishness doesn't change this, as seeking short-term windfalls has offered enormous selective advantages for hundreds of thousands of years.

That which is painful to those collecting free money will be avoided, and that which is easy will be pursued until it's painful. Borrowing $1.5 trillion a year from toddlers and the unborn taxpayers of the future is easy and painless, as toddlers have no political power. So we will borrow from the powerless to fund our free money spigots until it becomes painful.

It won't become painful to borrow from our grandkids for quite some time, and it will probably not become progressively painful, either, because we will suppress the pain with superlow interest rates and other trickery. The pain will more likely be of the sudden, unexpected, "this can't be happening to me" heart-attack sort: the free-money machine will unexpectedly grind to a halt in some sort of easily predictable but always-in-the-future crisis.

"Solutions" that turn off the free money spigots are non-starters, not just from self-interest but from ideology. Any attempt to tighten the spigots steps on ideological toes, as each spigot is ideologically sacred to one political camp or another.

Liberals don't want to hear about scamming of their sacred "we must help everyone in need" welfare programs, and conservatives don't want to hear about cartel looting of their sacred "free enterprise" system.

And so we have gridlock, what I call profound political disunity. Everybody at each trough of free money fights tooth and nail to keep their spigot wide open, and so the "solution" is to borrow 10% of the nation's output in "free money" every year until the free-money machine breaks down.

Each ideology worships their own version of cargo-cult economics: if we wave the dead chicken over the enchanted rocks while dancing the humba-humba, prosperity and abundance will magically return and we can "grow our way out of debt."

We're like a sprawling family bickering over the inheritance: we'll keep arguing over who deserves what until the inheritance is gone. That will trigger one final outburst of finger-pointing, resentment and betrayal, and then we'll go do something else to get by.

The "solution" is thus collapse. This model has been very effectively explored in The Upside of Down: Catastrophe, Creativity, and the Renewal of Civilization by Thomas Homer-Dixon. The basic idea is that when the carrying costs of the society exceed its output, the whole contraption collapses.

The political adjunct to this systemic implosion is that the productive people just stop supporting the Status Quo because it's become too burdensome. The calculus of self-interest shifts from supporting the bloated, marginal-return Status Quo to abandoning it.

So the root problem is the system, human nature, blah blah blah. There are no "solutions" that can fix those defaults. The "solution" is collapse, as only collapse will force everyone to go do something more sustainable to get by.

Until then, arguing about "solutions" is a sport to be enjoyed sparingly.


Here's my latest YouTube presentation with Gordon T. Long on "Peak Everything." Lots of interesting charts:





---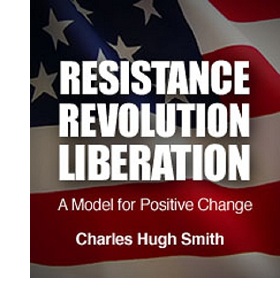 Resistance, Revolution, Liberation: A Model for Positive Change (print $25)
(Kindle eBook $9.95)
Read the Introduction (2,600 words) and Chapter One (7,600 words) for free.
We are like passengers on the Titanic ten minutes after its fatal encounter with the iceberg: though our financial system seems unsinkable, its reliance on debt and financialization has already doomed it.

We cannot know when the Central State and financial system will destabilize, we only know they will destabilize. We cannot know which of the State's fast-rising debts and obligations will be renounced; we only know they will be renounced in one fashion or another.

The process of the unsustainable collapsing and a new, more sustainable model emerging is called revolution, and it combines cultural, technological, financial and political elements in a dynamic flux.

History is not fixed; it is in our hands. We cannot await a remote future transition to transform our lives. Revolution begins with our internal understanding and reaches fruition in our coherently directed daily actions in the lived-in world.
---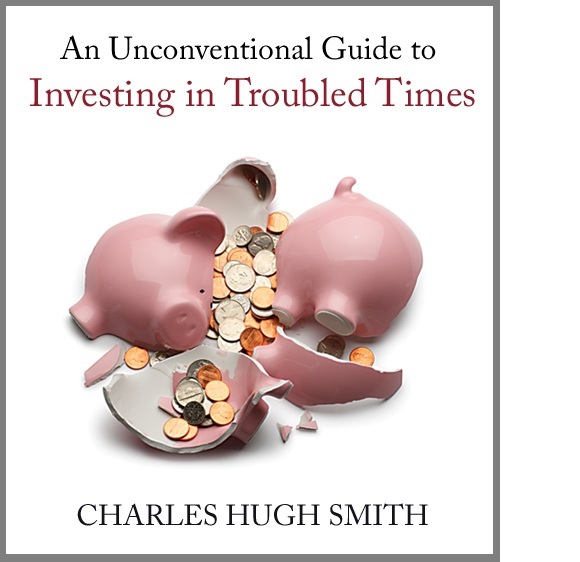 If this recession strikes you as different from previous downturns, you might be interested in my book An Unconventional Guide to Investing in Troubled Times (print edition) or Kindle ebook format. You can read the ebook on any computer, smart phone, iPad, etc. Click here for links to Kindle apps and Chapter One. The solution in one word: Localism.


Readers forum: DailyJava.net.





Order Survival+: Structuring Prosperity for Yourself and the Nation (free bits) (Kindle) or Survival+ The Primer (Kindle) or Weblogs & New Media: Marketing in Crisis (free bits) (Kindle) or from your local bookseller.
Of Two Minds Kindle edition: Of Two Minds blog-Kindle
---

"This guy is THE leading visionary on reality. He routinely discusses things which no one else has talked about, yet, turn out to be quite relevant months later."
--Walt Howard, commenting about CHS on another blog.

---
NOTE: gifts/contributions are acknowledged in the order received. Your name and email remain confidential and will not be given to any other individual, company or agency.
| | | |
| --- | --- | --- |
| | Thank you, Timothy S. ($75), for yet another outrageously generous contribution to this site--I am greatly honored by your ongoing support and readership. | |
---
Or send him coins, stamps or quatloos via mail--please request P.O. Box address.
Subscribers ($5/mo) and contributors of $50 or more this year will receive a weekly email of exclusive (though not necessarily coherent) musings and amusings.
At readers' request, there is also a $10/month option.
The "unsubscribe" link is for when you find the usual drivel here insufferable.
Your readership is greatly appreciated with or without a donation.
---
For more on this subject and a wide array of other topics, please visit my weblog.





All content, HTML coding, format design, design elements and images copyright © 2012 Charles Hugh Smith, All rights reserved in all media, unless otherwise credited or noted.
I would be honored if you linked this essay to your site, or printed a copy for your own use.
Terms of Service:
All content on this blog is provided by Trewe LLC for informational purposes only. The owner of this blog makes no representations as to the accuracy or completeness of any information on this site or found by following any link on this site. The owner will not be liable for any errors or omissions in this information nor for the availability of this information. The owner will not be liable for any losses, injuries, or damages from the display or use of this information. These terms and conditions of use are subject to change at anytime and without notice.