Just Following Orders (May 29, 2011)


Large-scale evil requires surrender of autonomy, coercion by a central authority and a willingness to follow orders.

There is evil, and then there's organized evil. This is a memorial outside the village where my brother lives in the south of France. It is a typical village, quite small, perhaps a few hundred residents. The memorial commemorates three young French civilians who were taken out and shot by Nazi soldiers, either for "crimes" of resistance or perhaps as a "lesson" to the restive civilian populace.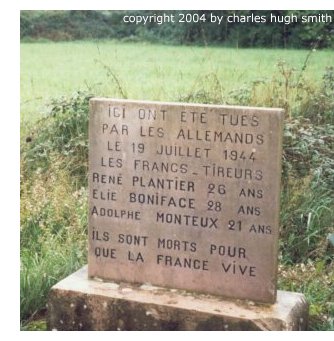 The German soldiers who pulled the triggers were of course "just following orders."
Evil must be resisted, corralled, vanquished. Interestingly, people don't need to be forced by a central authority to resist evil, though their efforts will prove more successful if they band together and submit to a competent authority of their own choosing. This is the basis of the "good war" or "just war."
But to be part of large-scale organized evil, people do need to surrender their autonomy under threat, and be ordered by a central authority.
This is the origin of the Nuremberg Defense: I was only following lawful, Superior Orders when I murdered those French civilians. The soldiers who followed the orders would have been punished had they refused; coercion is always the backbone of central authority.
Hannah Arendt wrote about the Great Evil, Nazi Germany, and "The Final Solution" of death camps in Eichmann in Jerusalem: A Report on the Banality of Evil. The Nazi machine spewed plentiful opportunities to practice the banality of evil, and the death camps were simply one division of the daily grind of pressing one's palms on evil and passing it on to the next "good German."
The routine killing of civilians went on day after day; it was the "day job" of the occupying troops.
Those inside the central authority know, of course, but very few are telling, because the see-saw is just so imbalanced in a system which depends on lies and the distortion of truth to continue its domination.
The truth-teller will lose their prestigious position, their generous salary and the acceptance of their peers, and perhaps their life. In exchange for this sacrifice, the truth-teller receives only the glowing, ephemeral shards of his/her integrity: in the current zeitgeist, that literally has no value. The machine will grind on without them, impervious to the tiny pricks of truth; the machinery of propaganda, artifice, misdirection and misrepresentation is well-oiled and masterful in the reach and scope of its operation.
In this context, it is worth watching The Most Dangerous Man in America: Daniel Ellsberg and the Pentagon Papers. Daniel Ellsberg was only one of thousands of "good Americans" doing their job in a war machine built entirely on lies and propaganda. He was one of a handful of citizens out of those thousands, or tens of thousands, who was willing to trade his career for his integrity and conscience.
The Vietnam War was "sold" to the public as a "just and necessary war" that they had "chosen" via their elected representatives. But it was all lies, propaganda, coercion, topped by the profound cowardice of an elected leadership unwilling to risk the loss of perquisites and power.
Ellsberg had given excerpts of The Pentagon Papers, the secret and oh-so-dangerous unvarnished truth about America's involvement in Vietnam, to various members of Congress; all but one did nothing. Only Rep. Pete McCloskey (R) thought the American people deserved the truth. (McCloskey is a decorated U.S. Marine Corps veteran of combat during the Korean War, recipient of the Navy Cross, the Silver Star, and two awards of the Purple Heart. He published Truth and Untruth - Political Deceit in America in 1972.)
Perhaps the American people would have chosen to sacrifice its youth and its treasure on what it had concluded was a "just and necessary" in Vietnam, but it never got the chance to learn the truth which was the necessary foundation of any such decision.
That's how the banality of evil works. When truth becomes too dangerous to the Status Quo, it must be strangled every day, by tens of thousands of people, and its limp corpse hidden away.


Readers forum: DailyJava.net.





Order Survival+: Structuring Prosperity for Yourself and the Nation (free bits) (Mobi ebook) (Kindle) or Survival+ The Primer (Kindle) or Weblogs & New Media: Marketing in Crisis (free bits) (Kindle) or from your local bookseller.
Of Two Minds Kindle edition: Of Two Minds blog-Kindle
---

"This guy is THE leading visionary on reality. He routinely discusses things which no one else has talked about, yet, turn out to be quite relevant months later."
--Walt Howard, commenting about CHS on another blog.

---
NOTE: contributions are acknowledged in the order received. Your name and email remain confidential and will not be given to any other individual, company or agency.
| | | |
| --- | --- | --- |
| Thank you, Edward J. ($10/mo), for your superbly generous subscription and outrageously generous contribution ($100) to this site -- I am greatly honored by your tremendous support and readership. | | Thank you, Max M. ($5), for yet another remarkably generous contribution to this site-- I am greatly honored by your steadfast support and readership, and honor your service to your country in Vietnam. |
---
Or send him coins, stamps or quatloos via mail--please request P.O. Box address.
Subscribers ($5/mo) and contributors of $50 or more this year will receive a weekly email of exclusive (though not necessarily coherent) musings and amusings, and an offer of a small token of my appreciation: a signed copy of a novel or Survival+ (either work admirably as doorstops).
At readers' request, there is also a $10/month option.
The "unsubscribe" link is for when you find the usual drivel here insufferable.
Your readership is greatly appreciated with or without a donation.
---
For more on this subject and a wide array of other topics, please visit my weblog.





All content, HTML coding, format design, design elements and images copyright © 2011 Charles Hugh Smith, All rights reserved in all media, unless otherwise credited or noted.

I would be honored if you linked this essay to your site, or printed a copy for your own use.