Global Reality: Surplus of Labor, Scarcity of Paid Work (May 7, 2012)


The industries that are increasing productivity do so by eliminating entire industries and entire job categories.

The global economy is facing a structural surplus of labor and a scarcity of paid work. Here is the critical backdrop for the global recession that is unfolding and the stated desire of central banks and states everywhere for "economic growth": most of the so-called "growth" since the 2008 global financial meltdown was funded by sovereign debt and "free money" spun by central banks, not organic growth based on rising earned incomes.

Take away the speculation dependent on "free money" and the global stimulus dependent on massive quantities of fresh debt, and how much "growth" would be left?

What policy makers and pundits dare not admit is that the global economy is entering the "end of paid work" foreseen by Jeremy Rifkin. I have covered this topic in depth many times, starting with End of Work, End of Affluence (December 5, 2008).

The industries that are rapidly increasing productivity and profits are doing so by eliminating jobs and the need for labor. The Web is chewing up industry after industry, wiping out entire sectors that once supported hundreds of thousands of jobs while creating a few thousand new jobs that require high-level skills and mobility.

Robotics are replacing factory labor throughout the world--yes, even in "low-wage" China. When I first toured a variety of factories in China in 2000, many were little more than simple warehouses filled with long tables where workers assembled and packaged cheap light fixtures, etc. by hand. Others had robotic machines stamping out circuit boards that were then hand-assembled into monitors, etc.

The defect rate was high in these settings. Machines are increasingly replacing hand labor in China. Much is made of "labor shortages" in certain southern cities, but what that actually means is a shortage of young workers (overwhelmingly preferred over older workers by manufacturers) willing to work for low wages.

Machines don't go on strike, their wages don't rise by government mandate, they don't call in sick, and they don't need supervision. In effect, workers are replaced by capital invested in robotics and software.

China is already built out. Airports, railway stations, rail lines, subways, highways, stadiums, giant malls, tens of millions of flats--they're already over-built. Nobody dare admit it, but China is already to the point that new construction is either "bridges to nowhere" i.e. redundant or marginal and only funded as a jobs program, or replacement of buildings that are often less than 25 years old, or speculative buildings that are mostly empty and will stay that way.

The Internet has enabled enormous reductions of labor input. A mere 15 years ago when I first learned HTML (1997), you had to code your own site or learn some fairly sophisticated website creation/management software packages, and you needed to set up a server or pay a host. Now anyone can set up a Blogspot or equivalent blog for free in a few minutes with few (if any) technical skills, and the site is free.

A staggering range of complex business services are available for low cost, enabling one person to perform work that a mere 15 years ago required a half-dozen people. Everyone talks about offshoring as the primary cause of jobs being scarce in the U.S., but the much larger force is technology in the form of Web-enabled software.

A mere decade ago publishing a book was a time-consuming, costly venture that required substantial capital and labor inputs. Now it takes less than an hour to publish a book on Kindle and the cost is zero other than the hour of labor. Not only that, but the cost of distributing that book is also near-zero, and the cost to the consumer is a fraction of the cost of print books a decade ago.

That is simply one example of many. Here's another: a tax preparation program that costs $60 can (for the common conventional tax situations) typically replace an accountant that charged $500 or more.

The other trend is the cost of labor in the developed West is rising as systemic friction adds cost without adding productivity. Workers in the U.S. only see their wages stagnate, but their employers see total labor costs rising as healthcare costs rise year after year. In effect, the U.S. pays an 8% VAT tax to support a bloated, paperwork-pushing, inefficient and fraud-laced healthcare system that costs twice as much as a percentage of GDP as other advanced democracies.

A worker making $60,000 a year costs the employer $90,000 a year. No wonder employers are shifting to contract labor (no exposure to skyrocketing healthcare) and part-time flex-labor. No wonder many entrepreneurs are selling their high-overhead businesses and becoming flexible, low-cost one-person enterprises.

When it costs a lot to hire someone, the risk of hiring them rises, too. That is the unspoken context of high-cost economies. The productivity increases enabled by web-based software and services eliminate entire swaths of labor--not for this season or this business cycle, but forever.

If we train 30 million software engineers, will that create 30 million paid positions for these skills? No, it won't. The dynamics of creating jobs is not the same as that of training people to do a job.

I will write more about these trends in the coming days.


Spring garden specials: largest discount ever from Everlasting Seeds. It's the perfect time to start your veggie/herb garden, and Everlasting Seeds is offering oftwominds.com readers 15% off all products: Buy a Vegi-Max and share with friends!

For small gardens: The Simple Garden - Special price: $29.95 + $8.00 shipping
Contains 30 seeds of each: Corn Broccoli Pea Onion Radish Carrot Cabbage Tomato Cauliflower Spinach Lettuce Pole Bean


Here is my latest discussion with Gordon T. Long: The Doomed Middle Class:
Happy Birthday, oftwominds blog--you're seven years old today.


---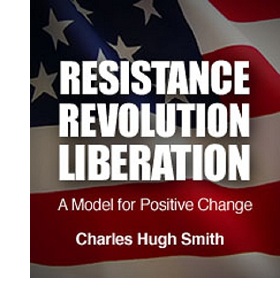 Resistance, Revolution, Liberation: A Model for Positive Change (print $25)
(Kindle eBook $9.95)
Read the Introduction (2,600 words) and Chapter One (7,600 words) for free.
We are like passengers on the Titanic ten minutes after its fatal encounter with the iceberg: though our financial system seems unsinkable, its reliance on debt and financialization has already doomed it.

We cannot know when the Central State and financial system will destabilize, we only know they will destabilize. We cannot know which of the State's fast-rising debts and obligations will be renounced; we only know they will be renounced in one fashion or another.

The process of the unsustainable collapsing and a new, more sustainable model emerging is called revolution, and it combines cultural, technological, financial and political elements in a dynamic flux.

History is not fixed; it is in our hands. We cannot await a remote future transition to transform our lives. Revolution begins with our internal understanding and reaches fruition in our coherently directed daily actions in the lived-in world.
---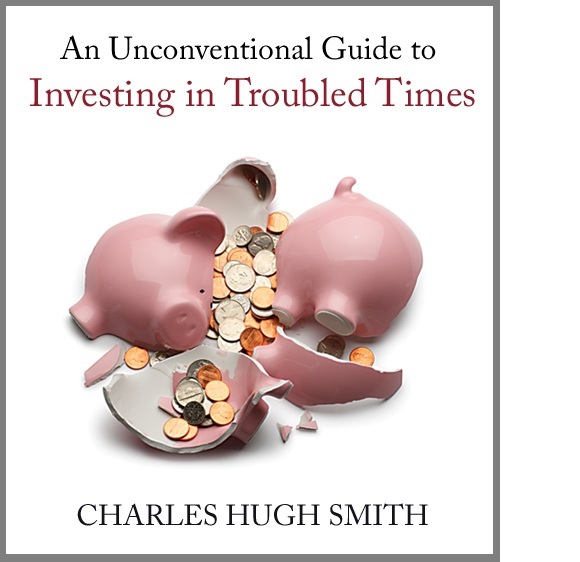 If this recession strikes you as different from previous downturns, you might be interested in my book An Unconventional Guide to Investing in Troubled Times (print edition) or Kindle ebook format. You can read the ebook on any computer, smart phone, iPad, etc. Click here for links to Kindle apps and Chapter One. The solution in one word: Localism.


Readers forum: DailyJava.net.





Order Survival+: Structuring Prosperity for Yourself and the Nation (free bits) (Kindle) or Survival+ The Primer (Kindle) or Weblogs & New Media: Marketing in Crisis (free bits) (Kindle) or from your local bookseller.
Of Two Minds Kindle edition: Of Two Minds blog-Kindle
---

"This guy is THE leading visionary on reality. He routinely discusses things which no one else has talked about, yet, turn out to be quite relevant months later."
--Walt Howard, commenting about CHS on another blog.

---
NOTE: gifts/contributions are acknowledged in the order received. Your name and email remain confidential and will not be given to any other individual, company or agency.
| | | |
| --- | --- | --- |
| Thank you, Sam R. ($100), for your outrageously generous contribution to this site--I am greatly honored by your ongoing support and readership. | | Thank you, Cosmo F. ($10), for your most generous contribution to this site--I am greatly honored by your support and readership. |
---
Or send him coins, stamps or quatloos via mail--please request P.O. Box address.
Subscribers ($5/mo) and contributors of $50 or more this year will receive a weekly email of exclusive (though not necessarily coherent) musings and amusings.
At readers' request, there is also a $10/month option.
The "unsubscribe" link is for when you find the usual drivel here insufferable.
Your readership is greatly appreciated with or without a donation.
---
For more on this subject and a wide array of other topics, please visit my weblog.





All content, HTML coding, format design, design elements and images copyright © 2012 Charles Hugh Smith, All rights reserved in all media, unless otherwise credited or noted.
I would be honored if you linked this essay to your site, or printed a copy for your own use.
Terms of Service:
All content on this blog is provided by Trewe LLC for informational purposes only. The owner of this blog makes no representations as to the accuracy or completeness of any information on this site or found by following any link on this site. The owner will not be liable for any errors or omissions in this information nor for the availability of this information. The owner will not be liable for any losses, injuries, or damages from the display or use of this information. These terms and conditions of use are subject to change at anytime and without notice.