Euro Double-Bind: Both Paths Lead to Disintegration (November 12, 2011)


The euro's handlers are in a double-bind: whatever path they choose, Germany has no choice but to renounce the euro as an act of self-preservation.

Is there anything that hasn't already been said about the Eurozone's structural flaws and the absurdity of the half-baked "solutions" tossed together by its frenzied, fumbling leadership? Perhaps not, but we can fruitfully boil the mess down to a simple double-bind.

The double-bind can be stated thusly:

1. If the European Central Bank (ECB) tries to save the private banks and bondholders by printing trillions of euros to buy up the mountain of hopelessly impaired sovereign bonds, then Germany will rebel and renounce the euro as an act of self-preservation.

Germany knows that money-printing robs savers and the productive via the stealth theft of inflation, and its people will not stand idly by while their wealth is destroyed by ECB euro-printing.

2. If the ECB renounces money-printing, then the only economy solvent enough to fund the 3-trillion-euro bailout with actual cash is Germany, which will rebel against this debt-serfdom by renouncing the euro.

There are only two paths, and they both lead to the same end-state: dissolution of the euro and the EU's monetary union. The situation is truly binary; there are no other real solutions. The half-life of theatrical, fantasy "solutions" is shrinking fast; where a meeting, a resolution or a vote once sparked a three-month rally, now it powers a meager three-day rally at best.

Soon the rumor-fantasy-"solution" rallies will last three hours, not three days. Once the zero line is reached, then rallies invert to crashes, and the markets will go critical, i.e. implode. This is the nature of intrinsically unstable systems.

The only real question left is when the criticality occurs. Can it be staved off until 2012? How long will it take for Germany and the rest of Europe to grasp the end-state of this simple double-bind? Months? Or will it be weeks or even days?

Once you realize the only two paths left both end at the same destination, then the only rational action is to move your cash out of euros and the doomed banks, and liquidate your euro-denominated assets into some other currency as fast and as furiously as possible.

Meanwhile, the Status Quo is issuing calls for euro 1.40 and a year-end rally to beat all rallies. Anything's possible, but the double-bind is real and cannot be massaged away. How much longer can fantasy be substituted for reality?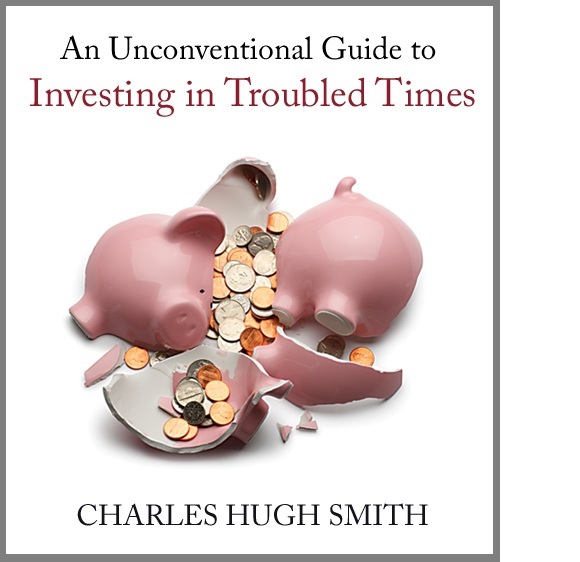 If this recession strikes you as different from previous downturns, you might be interested in my new book An Unconventional Guide to Investing in Troubled Times (print edition) or Kindle ebook format. You can read the ebook on any computer, smart phone, iPad, etc. Click here for links to Kindle apps and Chapter One. The solution in one word: Localism.

My Big Island Girl (song) Buy from CD Baby or amazon.com (99-cent MP3 download)


Readers forum: DailyJava.net.





Order Survival+: Structuring Prosperity for Yourself and the Nation (free bits) (Mobi ebook) (Kindle) or Survival+ The Primer (Kindle) or Weblogs & New Media: Marketing in Crisis (free bits) (Kindle) or from your local bookseller.
Of Two Minds Kindle edition: Of Two Minds blog-Kindle
---

"This guy is THE leading visionary on reality. He routinely discusses things which no one else has talked about, yet, turn out to be quite relevant months later."
--Walt Howard, commenting about CHS on another blog.

---
NOTE: contributions are acknowledged in the order received. Your name and email remain confidential and will not be given to any other individual, company or agency.
| | | |
| --- | --- | --- |
| | Thank you, Kent M. ($50), for your wondrously generous contribution to this site-- I am greatly honored by your support and readership. | |
---
Or send him coins, stamps or quatloos via mail--please request P.O. Box address.
Subscribers ($5/mo) and contributors of $50 or more this year will receive a weekly email of exclusive (though not necessarily coherent) musings and amusings, and an offer of a small token of my appreciation: a signed copy of a novel or Survival+ (either work admirably as doorstops).
At readers' request, there is also a $10/month option.
The "unsubscribe" link is for when you find the usual drivel here insufferable.
Your readership is greatly appreciated with or without a donation.
---
For more on this subject and a wide array of other topics, please visit my weblog.





All content, HTML coding, format design, design elements and images copyright © 2011 Charles Hugh Smith, All rights reserved in all media, unless otherwise credited or noted.

I would be honored if you linked this essay to your site, or printed a copy for your own use.