Japan and the Exhaustion of Consumerism (October 18, 2012)


Japan's faddishly fantastic fashions illustrate the exhaustion of consumerism as a driver of wealth creation.

Japan is known for artful handcrafts, high-tech gadgets and outlandish fads. All modern economies depend on fads and fashions to drive consumption, and so Japan's leadership in fads reflects its advanced state of consumerism: it is a very wealthy nation, and its wealth has been distributed widely enough that the vast majority of its citizens have access to the "good things" produced by modern industrialized economies.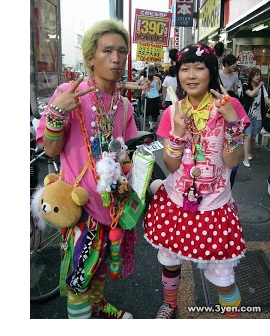 Thus it is unsurprising that Japan generates sufficient surplus on a national scale to support elaborate fads and fashions such as those on display in the Harajuku district of Tokyo:
Every Sunday, young people dressed in a variety of styles including gothic lolita, visual kei, and decora, as well as cosplayers spend the day in Harajuku socializing. A cosplay enthusiast will usually dress as a fictional or iconic character from a band, game, movie, anime, or manga.

The fashion styles of these youths rarely conform to one particular style and are usually a mesh of many. Harajuku is also a fashion capital of the world, renowned for its unique street fashion.
The global reach of manga and anime is well-known, and so the overlap of fad, fashion and media (young people dressing up as manga characters) is also unsurprising.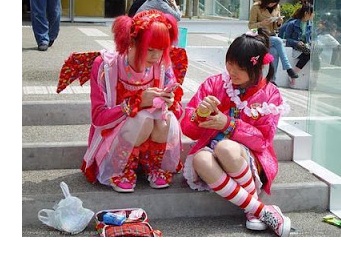 There is even a weekly television program on NHK (Japan's English-language network) that covers kawaii fashion. (Kawaii means "cute," though with a different range of meaning that "cute" in English. Kawaii includes what we might call cutesy, sweetly nostalgic or cartoonishly cute.)
There are certainly positives to this opt-in "public fashion show": self-expression in a conformist society, a bit of healthy rebellion against convention and good fun to share with friends, to name three.
But there is a less positive aspect, too: it is a phenomenon of extended adolescence, a state of "suspended animation" of young adults facing truncated opportunities for adulthood--secure careers, marriage, family, homeownership--who are stuck in a seemingly permanent adolescence.
It's as if there is a split in the road and no third way: some young people make it onto the traditional corporate or government career path, and everyone else is left in part-time suspended animation with few options for adult expression or development.
What few seem willing to acknowledge is the solipsistic, narcissistic nature of this reliance on public display of consumerist fantasy for self-identity. All consumerist fashion is based on superficiality and self-indulgence, of course; but if we look at the energy, money and attention "invested" in fashion lifestyles in Japan, we might conclude it is strong evidence that there is plenty of "money and time to burn" in Japan. While that is certainly true, this reliance on consumerist excess for self-identity and pastime is also evidence of a deeply troubled economy and society.
Young people have money and time to burn on outlandish costumes because few earn enough to have their own families or flats. They work part-time for low wages and live at home or in tiny one-room apartments. Few own cars because they 1) don't earn enough to support a car and 2) they're uninterested in acquiring status symbols or prestige signifiers.
This is not just a generational shift: it reflects a realistic understanding that opportunities for secure, high-paying employment have diminished over the past 20 years. There are plenty of low-level jobs, but few with the guarantees that their parents took for granted.
Sound familiar? This reality is playing out in Europe and the U.S. as well.
If all this is new to you, I strongly recommend you read my essay The Non-Financial Cost of Stagnation: "Social Recession" and Japan's "Lost Generations" (August 9, 2010).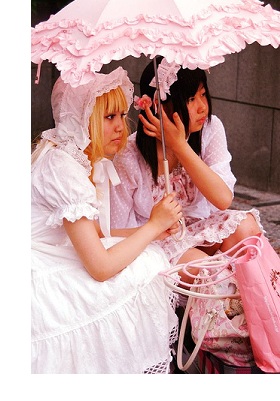 Here are a few highlights:
-- Once-egalitarian Japan is becoming a nation of haves and have-nots.
-- More than one-third of the workforce is part-time as companies have shed the famed Japanese lifetime employment system.
-- The slang word "freeter" (for part-time worker) combines the English "free" and the German "arbeiter" or worker.
-- A typical "freeter" wage is 1,000 yen ($12.60) an hour.
-- As long ago as 2001, The Ministry of Health, Labor and Welfare estimated that 50 percent of high school graduates and 30 percent of college graduates now quit their jobs within three years of leaving school.
-- Japan's slump has lasted so long, a "New Lost Generation" is coming of age, joining Japan's first "Lost Generation" which graduated into the bleak job market of the 1990s.
-- These trends have led to an ironic moniker for the Freeter lifestyle: Dame-Ren (No Good People). The Dame-Ren (pronounced dah-may-ren) get by on odd jobs, low-cost living and drastically diminished expectations.
-- Many young men now reject the macho work ethic and related values of their fathers. These "herbivores" reject the traditonal Samurai ideal of masculinity. Derisively called "herbivores" or "Grass-eaters," these young men are uncompetitive and uncommitted to work, evidence of their deep disillusionment with Japan's troubled economy.
-- These shifts have spawned a disconnect between genders so pervasive that Japan is experiencing a "social recession" in marriage, births, and even sex, all of which are declining.
-- The trend of never leaving home has sparked an almost tragicomical countertrend of Japanese parents who actively seek mates to marry off their "parasite single" offspring as the only way to get them out of the house.
-- An even more extreme social disorder is Hikikomori, or "acute social withdrawal," a condition in which the young live-at-home person will virtually wall themselves off from the world by never leaving their room.
Is it any wonder that in the face of such a bleak and maladaptive future, young people seek identity, community and solace in a fantasy world of fashion? When an economy is dominated by a Savior State that issues unsustainable promises, and a society is dependent on a consumerist frenzy of ceaseless fads, status signifiers and shopping for identity and what passes for community, then narcissism, restless emptiness and the aloneness mentioned yesterday in The Hidden Cost of the "New Economy": New-Type Depression are the inevitable results.
Beneath the surface of Japan, Inc., bullet trains, cute robots and exuberant fashions, this is the Japan few outsiders understand: the exhaustion of consumerism.


---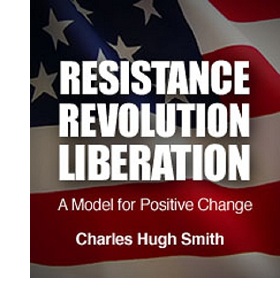 Resistance, Revolution, Liberation: A Model for Positive Change (print $25)
(Kindle eBook $9.95)
Read the Introduction (2,600 words) and Chapter One (7,600 words) for free.
We are like passengers on the Titanic ten minutes after its fatal encounter with the iceberg: though our financial system seems unsinkable, its reliance on debt and financialization has already doomed it.

We cannot know when the Central State and financial system will destabilize, we only know they will destabilize. We cannot know which of the State's fast-rising debts and obligations will be renounced; we only know they will be renounced in one fashion or another.

The process of the unsustainable collapsing and a new, more sustainable model emerging is called revolution.

Rather than being powerless, we hold the fundamental building blocks of power. We need neither permission nor political change to liberate ourselves. A powerless individual becomes powerful when he renounces the lies and complicity that enable the doomed Status Quo's dominance.
---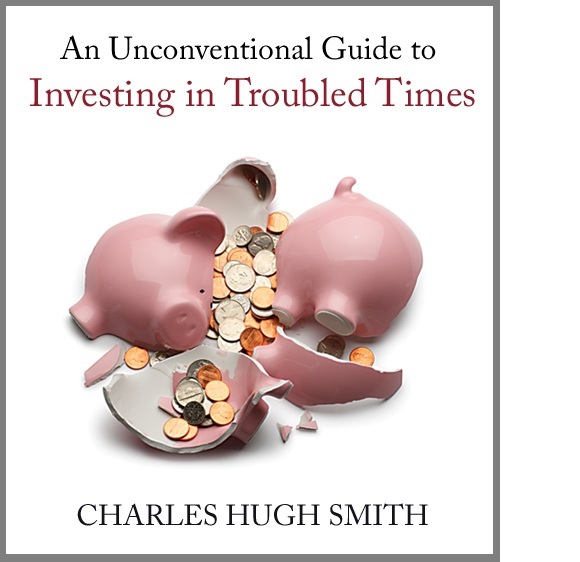 If this recession strikes you as different from previous downturns, you might be interested in my book An Unconventional Guide to Investing in Troubled Times (print edition) or Kindle ebook format. You can read the ebook on any computer, smart phone, iPad, etc. Click here for links to Kindle apps and Chapter One. The solution in one word: Localism.


Readers forum: DailyJava.net.





Order Survival+: Structuring Prosperity for Yourself and the Nation (free bits) (Kindle) or Survival+ The Primer (Kindle) or Weblogs & New Media: Marketing in Crisis (free bits) (Kindle) or from your local bookseller.
Of Two Minds Kindle edition: Of Two Minds blog-Kindle
---

"This guy is THE leading visionary on reality. He routinely discusses things which no one else has talked about, yet, turn out to be quite relevant months later."
--Walt Howard, commenting about CHS on another blog.

---
NOTE: gifts/contributions are acknowledged in the order received. Your name and email remain confidential and will not be given to any other individual, company or agency.
| | | |
| --- | --- | --- |
| | Thank you, Frank N. ($30), for your admirably generous contribution to this site--I am greatly honored by your support and readership. | |
---
Or send him coins, stamps or quatloos via mail--please request P.O. Box address.
Subscribers ($5/mo) and contributors of $50 or more this year will receive a weekly email of exclusive (though not necessarily coherent) musings and amusings.
At readers' request, there is also a $10/month option.
What subscribers are saying about the Musings (Musings samples here):
The "unsubscribe" link is for when you find the usual drivel here insufferable.
Your readership is greatly appreciated with or without a donation.
---
For more on this subject and a wide array of other topics, please visit my weblog.





All content, HTML coding, format design, design elements and images copyright © 2012 Charles Hugh Smith, All rights reserved in all media, unless otherwise credited or noted.
I would be honored if you linked this essay to your site, or printed a copy for your own use.
Terms of Service:
All content on this blog is provided by Trewe LLC for informational purposes only. The owner of this blog makes no representations as to the accuracy or completeness of any information on this site or found by following any link on this site. The owner will not be liable for any errors or omissions in this information nor for the availability of this information. The owner will not be liable for any losses, injuries, or damages from the display or use of this information. These terms and conditions of use are subject to change at anytime and without notice.