The Source of High Inflation: Government Spending (October 1, 2012)


If we look at what's skyrocketed in price (healthcare, college tuition), we find they are government funded and supported. This is not a coincidence.

Inflation is generally viewed as a monetary phenomenon (print money excessively and you get inflation), but let's use a very simple definition: any loss of purchasing power. If your income buys fewer goods and services, for whatever mix of reasons (geopolitical, weather, monetary, fiscal, etc.), that's inflation "on the ground."

Consider this breakdown of the components that together make up the standard measure of inflation, the Consumer Price Index (CPI): (courtesy of dshort.com) What are the obvious major sources of inflation? Energy, medical costs and college tuition.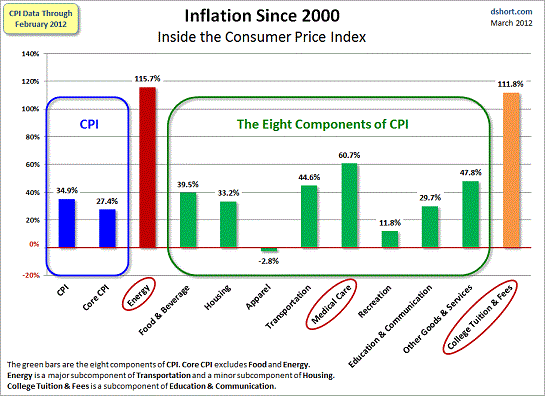 Here's an eye-opening look at medical costs and college tuition, also courtesy of dshort.com: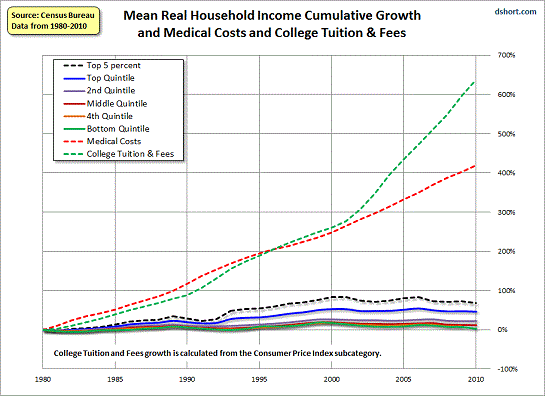 What differentiates medical and college costs from everything else? The Federal government's direct role in these markets. The Central State directly spends over $1 trillion a year on Medicare and Medicaid, and controls private spending with rules and regulations.
As for college costs: could their incredible expansion have anything to do with the Central State backing $1 trillion in student loans?
The Federal government controls much of the economy, directly or indirectly. It influences agriculture prices with price supports and regulatory controls, it influences the cost of housing with gargantuan subsidies (FHA and VA loans) and has basically taken over the entire mortgage market in its effort to re-inflate the housing bubble.
But it is striking that the highest inflation is occurring in precisely those sectors dominated by government spending: medical and college costs.
I was alerted to this correlation by correspondent David P., who wrote:
Inflation is centered in particular markets - not finance, housing or small business, but wherever the government spends money: Schools, food, energy, medical care.
This is of a piece with the previous post on the Federal Reserve's policy of supporting Federal spending by monetizing Treasury debt Why QE May Not Boost Stocks After All (September 26, 2012). In other words, the Fed doesn't necessarily create inflation across the entire economy (Why QE Won't Create Inflation Quite as Expected) by printing money; it creates inflation in government-funded sectors by monetizing Treasury bonds that enable massive Federal spending.
Government spending is by definition unhindered by market forces; having a monopoly on coercion, taxation and selling Treasury bonds to the Federal Reserve means you get to spend money without worrying about price or other market functions.
Government spending that funnels huge sums of money into cartels--for example, the sickcare and higher-education cartels--directly supports monopolistic pricing, which then drives costs higher regardless of the money supply expanding or contracting. This is the basic function of the Statist monopoly capital partnership that dominates our neofeudal economy.
Where the Fed has succeeded is in raising expectations of inflation that then drive speculative bets on higher prices. Part of the "don't fight the Fed" belief system is if the Fed wants inflation, it will get it. And if that's the case, then why not buy oil/gold/silver now before prices shoot higher?
The price of oil in the U.S. is influenced by many factors--geopolitical, currency, technology, policy, etc. Nonetheless, the rough correlation between base money supply and the price of oil in dollars is noteworthy: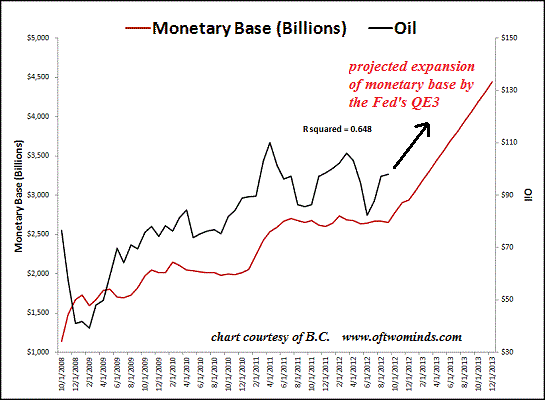 It's also worth recalling that the Federal government itself is a major consumer of oil, as the Pentagon alone consumes as much oil as a small industrialized nation.
Government spending and intervention fuel inflation, and the Federal Reserve enables that spending and inflation by monetizing Federal deficits. Raising expectations of inflation has powered oil higher on speculative buying, but it's difficult to generate economy-wide inflation when wages are declining (courtesy of dshort.com):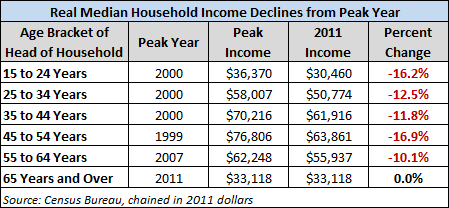 Eventually, declining wages lead to demand destruction, as households consume fewer goods and services. But inflation that is being driven by government spending will not decrease, as the demand is being supported by a borrow-and-spend Central State supported by a monetize-Federal-debt-til-Doomsday Federal Reserve.


---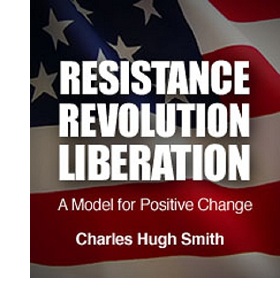 Resistance, Revolution, Liberation: A Model for Positive Change (print $25)
(Kindle eBook $9.95)
Read the Introduction (2,600 words) and Chapter One (7,600 words) for free.
We are like passengers on the Titanic ten minutes after its fatal encounter with the iceberg: though our financial system seems unsinkable, its reliance on debt and financialization has already doomed it.

We cannot know when the Central State and financial system will destabilize, we only know they will destabilize. We cannot know which of the State's fast-rising debts and obligations will be renounced; we only know they will be renounced in one fashion or another.

The process of the unsustainable collapsing and a new, more sustainable model emerging is called revolution.

Rather than being powerless, we hold the fundamental building blocks of power. We need neither permission nor political change to liberate ourselves. A powerless individual becomes powerful when he renounces the lies and complicity that enable the doomed Status Quo's dominance.
---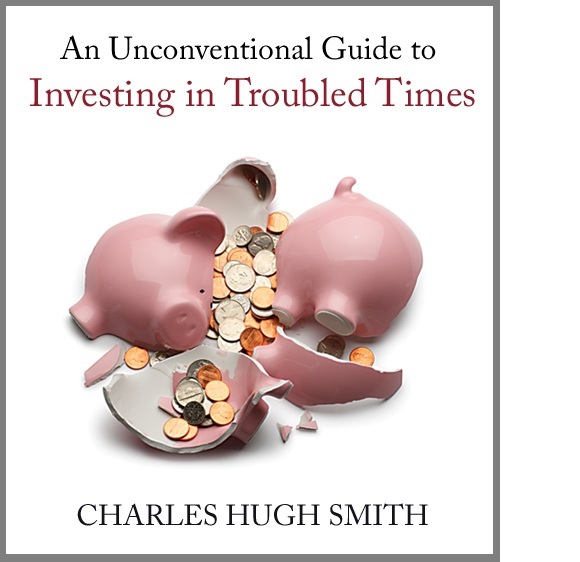 If this recession strikes you as different from previous downturns, you might be interested in my book An Unconventional Guide to Investing in Troubled Times (print edition) or Kindle ebook format. You can read the ebook on any computer, smart phone, iPad, etc. Click here for links to Kindle apps and Chapter One. The solution in one word: Localism.


Readers forum: DailyJava.net.





Order Survival+: Structuring Prosperity for Yourself and the Nation (free bits) (Kindle) or Survival+ The Primer (Kindle) or Weblogs & New Media: Marketing in Crisis (free bits) (Kindle) or from your local bookseller.
Of Two Minds Kindle edition: Of Two Minds blog-Kindle
---

"This guy is THE leading visionary on reality. He routinely discusses things which no one else has talked about, yet, turn out to be quite relevant months later."
--Walt Howard, commenting about CHS on another blog.

---
NOTE: gifts/contributions are acknowledged in the order received. Your name and email remain confidential and will not be given to any other individual, company or agency.
| | | |
| --- | --- | --- |
| | Thank you, John H. ($5/mo), for your splendidly generous subscription to this site--I am greatly honored by your support and readership. | |
---
Or send him coins, stamps or quatloos via mail--please request P.O. Box address.
Subscribers ($5/mo) and contributors of $50 or more this year will receive a weekly email of exclusive (though not necessarily coherent) musings and amusings.
At readers' request, there is also a $10/month option.
What subscribers are saying about the Musings (Musings samples here):
The "unsubscribe" link is for when you find the usual drivel here insufferable.
Your readership is greatly appreciated with or without a donation.
---
For more on this subject and a wide array of other topics, please visit my weblog.





All content, HTML coding, format design, design elements and images copyright © 2012 Charles Hugh Smith, All rights reserved in all media, unless otherwise credited or noted.
I would be honored if you linked this essay to your site, or printed a copy for your own use.
Terms of Service:
All content on this blog is provided by Trewe LLC for informational purposes only. The owner of this blog makes no representations as to the accuracy or completeness of any information on this site or found by following any link on this site. The owner will not be liable for any errors or omissions in this information nor for the availability of this information. The owner will not be liable for any losses, injuries, or damages from the display or use of this information. These terms and conditions of use are subject to change at anytime and without notice.