Losing the Red Queen's Race (February 17, 2010)


The Red Queen's Race is an apt analogy for the meltdown in assets and debt now swamping the global economy.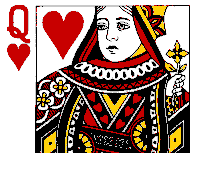 The Red Queen's race refers to running very fast to stay in the same place. As asset values fall globally (except where massive government stimulus has pushed the day of reckoning forward a bit), debt holders are frantically paying down or writing down debt--running very fast--but finding themselves in the same place--zero equity--despite their prodigious efforts.

I've prepared a chart to illustrate The Red Queen's Race in assets and debt: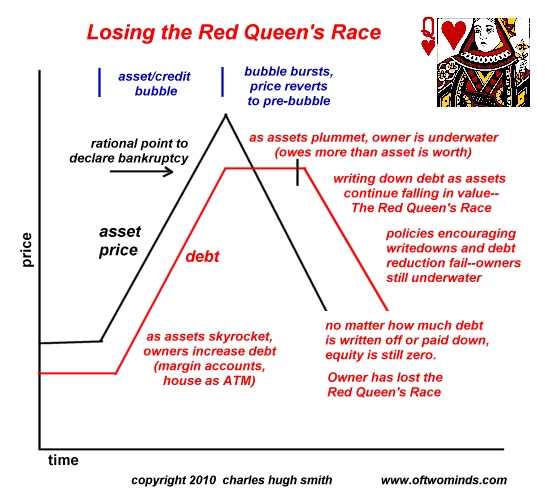 Owning an asset as it catapults ever higher in a credit/asset bubble offers a fateful temptation to leverage that rising equity ("free money") or extract it to enjoy. Millions of speculators did so by borrowing against their stocks (margin accounts) and tens of millions did so by borrowing against their home equity via second mortgages or HELOCs (home equity lines of credit).
Alas, when the asset bubbles bursts, values quickly begin a long and painful retrace to pre-bubble valuations. In very short order, those who bought with high leverage or borrowed 90% of their equity find themselves underwater, owing more than the value of their asset/property.
Those with 80% of bubble-top value mortgages who cling to the hope of a rapid recovery in valuations soon find they too are underwater.
Lenders who thought they were "safe" extending 80%-of-value loans at the bubble top find their 1-2% reserves against losses are woefully inadequate as assets continue their ceaseless decline to rational valuations.
In a desperate attempt to stave off losing the Red Queen's Race, The Federal Reserve essentially hands the banks billions in easy profits, loaning them unlimited funds at near-zero interest rates so they can "re-capitalize" by loaning their unlimited "free money" at higher rates of interest.
But even the incantations and legerdemaine of the Fed are no match for the inexorable punishment of running in place just to avoid falling behind; no matter how fast the Fed-induced profits flow, they cannot gain on the declining assets. Banks pocket billions yet their net equity remains far below zero.
At some point, the lender or owner tires of writing down or paying down debt to no avail, and they lose the Red Queen's Race. Having lost, some lenders, owners and even governments (see Japan, Inc. for a woeful example) maintain the fiction that equity is above zero by continuing the fraud of pricing assets at "mark to fantasy" valuations.
In other words, they list a mortgage at full nominal value, as if the underlying asset--the house--was still worth more than the mortgage.
Here's the desperate game being played now on a global scale: mark the debt as if the bubble had never burst ("mark to fantasy") in the hopes that government stimulus and lending will re-inflate the bubble, enabling owners and lenders alike to exit the asset at a price which makes them whole (no losses incurred).
That is the entire raison d'etre for quantitative easing, near-zero interest rates and massive support of the mortgage markets, from China to the U.S. If only another generation of suckers can be conned into believing that bubble prices are "rational" and can even be exceeded (greed is not just good, it is necessary), then various financial Elites can exit their liquidity and debt traps by selling at the "new top."
Unfortunately for global financial Elites and homeowners alike, there has never been a bubble which was reinflated for long. Running faster (expanding credit in a futile attempt to spark another bubble frenzy) never wins the Red Queen's Race, but it certainly sets up a higher bubble and a catastrophic exhaustion of credit, debt and belief in the system (loss of institutional credibility).
Welcome to the Red Queen's Race, which can only be lost. Writing down debt as assets fall is simply staying in one place. At some point the runners--lenders and debtors alike--tire of maintaining the futile fiction that "equity" still exists, and the race is lost: losses are finally accepted, debt is renounced, and bankruptcy wipes out the fictional equity.
We might call this inevitable reconciliation with reality the Red Queen's Revenge.


Special offer: receive signed copies of both Survival+ ($19.95) and Chris Sullins' strategic action thriller Operation SERF ($14.99) for a donation of $33.33 to this site via PayPal. Perhaps it is mere fantasy or wishful thinking, but I thought a few readers might like signed copies of both books. At my request, Chris signed 10 copies of his novel and sent them to me, seven have already been spoken for so a maximum of 3 readers can avail themselves of this offer.
Since ordering the books costs $34.94 on amazon, and since I have some small affection for the days of vinyl albums, the price has been arbitrarily set at $33.33, shipping included.
Will signed copies have any value? That is unknown, but I can guarantee that Survival+ will eventually be issued in a 3rd edition at a higher price, so this 2nd edition is a limited run. I have signed about 60 copies as a token of my appreciation for those contributors and subscribers who have been outrageously generous ($40 or more). As it stands, that's the only way to get a signed copy, other than this little special offer.
In other news: Luke, the proprietor of the always provocative blog suburbanempire.com recently interrogated me at length--the results are posted on his blog. Thank you, Luke, for the opportunity to spout off even more absurdly than I do here....


If you haven't visited the forum, here's a place to start. Click on the link below and then select "new posts." You'll get to see what other oftwominds.com readers and contributors are discussing/sharing.
DailyJava.net is now open for aggregating our collective intelligence.


Order Survival+: Structuring Prosperity for Yourself and the Nation and/or Survival+ The Primer from your local bookseller or from amazon.com or in ebook and Kindle formats. A 20% discount is available from the publisher.
Of Two Minds is now available via Kindle: Of Two Minds blog-Kindle

---

"This guy is THE leading visionary on reality. He routinely discusses things which no one else has talked about, yet, turn out to be quite relevant months later."
--Walt Howard, commenting about CHS on another blog.

---
NOTE: contributions are acknowledged in the order received. Your name and email remain confidential and will not be given to any other individual, company or agency.
| | | | |
| --- | --- | --- | --- |
| | Thank you, Michel L. ($50), for your fabulously generous contribution to this site. I am greatly honored by your support and readership. | | Thank you, Dan T. ($50), for your exceedingly generous contribution to this site. I am greatly honored by your support and readership. |
Or send him coins, stamps or quatloos via mail--please request P.O. Box address.
Your readership is greatly appreciated with or without a donation.
---
For more on this subject and a wide array of other topics, please visit my weblog.







All content, HTML coding, format design, design elements and images copyright © 2010 Charles Hugh Smith, All rights reserved in all media, unless otherwise credited or noted.

I would be honored if you linked this wEssay to your site, or printed a copy for your own use.