Archives
Bulk pizza dough, Pasta Salad, Ceasar Salad, Beef and Barley Vegetable Soup, Simple Chicken Tajine (Morocco), Kofta from Curried Favors
(cookbook)
Crockpot lentil soup, "skillet stuff", quick chili, black bean chili, Papillotes de Poisson, Craisin Bread/Cream Cheese/Walnut Sandwich, freeacre's advice on eating well/cheaply
Madhur Jaffrey's World Vegetarian: More Than 650 Meatless Recipes from Around the World

Barley with Tomato (for 2); Oven baked chicken breasts or pork loins; Shepherd's Pie; Garden Chicken Soup; Quick Easy Vegetable Soup; Pork Butt Stew; Chili and Corn Bread, Eggplant Parmesan


Crock Pot Recipe for Deer Meat Stew; Real Homemade Mac and Cheese; My Own Cornbread Recipe; 20-Minute Marinara Sauce; Cod with Sautéed Vegetables & Wild Rice; Corned Beef and Cabbage; Cornbread Meatloaf and Meatless Cream Soup; Three Bean Casserole; Split Pea Soup; Turkey Soup; Rhubarb Salsa.
The criteria for recipes here are simple: the meal must be healthy, real (no packaged mixes, though canned goods are OK), cheap (ingredients which are either inexpensive or regularly go on sale) good-tasting, and homemade (can be prepared by anyone with basic cooking skills). We welcome your answer to: What's for Dinner at Your House? submit your cheap, good recipes (story, ingredients, instructions, cost-saving tips).

---
Winter 2010:
Cod with sautéed vegetables & wild rice; corned beef with cabbage; Cornbread Meatloaf; Meatless Cream Soup; Three Bean Casserole; Split Pea Soup; Turkey Soup; Rhubarb Salsa; 20-Minute Marinara Sauce; Deer Meat Stew, Real Mac and Cheese; "Man-Made" Cornbread (updated 3/6/10)
---


Crock Pot Recipe for Deer Meat Stew submitted by Anita J. Hanks

Here's one that's really easy:

Ingredients:
3 small deer steaks or about 3/4 pound of deer stew meat
1 15 oz can of Lentil soup
1 15 oz can of diced tomatoes
1 pound of carrots cut in small rounds
6 small bay leaves ground pepper to taste

Directions:
Put all the ingredients in a crockpot and cook on High for 1 hour or so while getting ready to go to work or school. Before you leave the house make SURE to turn the crockpot on Low. No need for salt because there's salt in the canned soup.

Serve over mashed potatoes or brown rice. This is very lean and really hits the spot.


---


Real Homemade Mac and Cheese submitted by Dana H.

This is the real stuff. Very filling, satisfying, and relatively cheap, but it does take some time and attention. This recipe is my adaptation, over time, of a recipe in an old, old edition of the Betty Crocker Cookbook. Warning: It is a high-fat dish.

Ingredients
1 and 1/2 cups elbow macaroni
1 medium to large onion, chopped finely
4 to 6 tablespoons butter (depends on how much of a butter lover you are)
1/4 cup flour 1 and 3/4 cups whole milk (don't use 2%)
10 ounces cheddar cheese, cut into small chunks; mix in a little Monterey Jack and grated Parmesan if you have it (this is a good use of small bits of cheese in the fridge that would otherwise go to waste)
Salt, pepper, paprika and a dash of nutmeg (I like a lot of pepper in this; nutmeg is not for everyone, but I like it—omit nutmeg if it's not a taste you favor)

Directions:
• Cook macaroni according to package; drain and place in casserole dish
• Preheat oven to 375 degrees
• Make sauce:

Saute onion in butter until translucent. Toss in flour and cook until bubbly. Add salt, pepper, spices Pour in milk and bring to a boil, then let boil for a minute or so Take off heat, throw in cheese, then stir until cheese is completely melted.

• Combine and bake:

Pour sauce over macaroni, stir until completely coated. Bake uncovered for about 30 minutes. Mix ins if desired—leftover ham, frozen or fresh peas, small pieces of frozen or fresh broccoli (well drained).


---


My Own Cornbread Recipe submitted by Dan Treecraft


I'd always been willing to try most anyone's cornbread..... until I finally made up my own recipe about twenty years ago. Sunset magazine's own "Favorite Recipes" and a few other cookbooks gave me ideas, which I've synthesized into my own concoction, which seldom fails to elicit requests for the recipe. Now, I'm afraid I'm a pretty picky "cornbread snob". Anybody else's cornbread has to be pretty bloody-intriguing to get my attention.

To wit: "Fat-Headed Dan's Man-Made Cornbread"

Find a good, preferably well-seasoned 10 or 12 inch cast iron skillet. Preheat oven to 400 degrees. Set the rack at middle-height in oven.

Ingredients:
(For best results - freshly ground whole wheat flour* and whole grain cornmeal* yields a superior result. Do your best to obtain flours as fresh as you can.) 2 cups whole grain cornmeal* ( the kind you can only get from a "natural foods" type grocery store... or grind your own. If not fresh and whole grain, I'm not accountable. )

1 cup whole wheat flour*
1 cup unbleached white flour
2 tsp baking soda
2 tsp granular lecithin
*******
2 eggs, beaten
2 1/2 cups buttermilk
2/3 cup dark brown sugar
1/2 cup olive oil ( or warm bacon grease, if you prefer )
*******
2/3 cup cleaned, sorted, shelled pumpkin seeds("pepitas"), divided into roughly two piles. If you like "pepitas", use more ( try the "natural foods" store, again )
1 TblSpn butter or bacon grease

Directions:
• In an 8 cup, or larger, mixing bowl, combine, mix well - all of first group of dry ingredients listed above ( this excludes the brown sugar and pumpkin seeds ).
• Now, place the cast iron skillet in the oven to preheat for about 5 minutes.
• Next, in a separate bowl, combine beaten eggs, brown sugar, buttermilk and oil.
• Now, mix the combined dry ingredients with the egg, buttermilk, sugar, oil. ( stir thoroughly enough to make all "well acquainted", but not more.)
• Pull hot skillet out of oven (Careful!). Now, working quickly, but carefully....
• Pour oil or bacon grease into skillet - to coat bottom and sides an inch or more up, and....
• Scatter half of the pumpkin seeds into skillet... and...
• Pour well stirred batter into hopefully-still-hot skillet, and then...
• Scatter remaining half of pumpkin seeds on top of batter in skillet, and then...
• Place skillet with contents into oven.
• Set timer for 30 minutes.
• Cornbread is done when a clean knife inserted into middle of cooked bread comes out "clean".
• Turn oven off. ( duh! )

• I usually let bread sit, to cool, for a few minutes ( or for 30 seconds - whichever comes first ) before cutting and serving, preferably directly from the skillet ( trivet?) at the table.
• The last several steps - where you're pulling the hot skillet out of oven, then getting oil, seeds, batter, and more seeds into skillet - try to work quickly so that batter actually hits a nice hot skillet. This makes for a better crust - part of what makes this recipe stand up and yodel.
• If you make this without the pumpkin seeds, you'll have a nice above-average batch of bread to show for it. The pumpkin seeds are (IMHO) the secret to making this a "Blockbuster" recipe.
• At our house, we always keep a batch of "Olive Butter" in the fridge. It's ( 2 to 4 sticks ) room-temp-soft butter, whisked about with a knife - to get it "loosened up", then mixed with an equivalent amount of olive oil. Once well stirred, this can be stored in the fridge (covered) just like regular butter. The beauty of "olive butter" is, 1) You can use twice as much of it, with no additional "sat fat" consumption/risk, and, 2) It's so much easier to spread on bread, toast, cornbread, etc, than 100% butter. For better or worse - we're way more scared of fake butter ( "margarine" ) than we are of "the real thing" ( butter ).
• My wife always reads our recipe, and carefully measures out all of the ingredients. Me - I usually only carefully measure the eggs ( 2 ea ), and throw it together from memory. The rest of it gets short-shrift care in measuring... Oh, I guess the flour and cornmeal and buttermilk get a fair measuring, but the rest kinda gets the "rough approx treatment". Hers always turns out uniformly wonderful. Mine ain't so consistent - sometimes it's good - sometimes it's "off-the-chart fabulous!" I'm always fooling with the ratios and adding or substituting something. Sometimes, I create some "interesting" - usually edible - disasters.
• This is enough of a "staple" at our house, that we most always have pumpkin seeds, buttermilk, fresh cornmeal, and "reasonably fresh" whole wheat flour in the fridge. A nutritionally-attentive young friend of ours says whole wheat flour goes to hell ( rancid ) very quickly - within days, if not hours after milling. This affects not only the nutrition but ( plotspoiler-alert ! ) the taste, as well. If it don't taste good - you shouldn't eat it. If it tastes better, it may be that it is better. ( Duh! )
• Those of you "who cook" know that, once you've made this a few times, what looks, here, like a very elaborate process, actually only takes about ten or fifteen minutes from the time you start, until the pan of batter goes into the oven. It's as easy as falling off your hat.


---


20-Minute Marinara Sauce submitted by Kevin Okabe

Ingredients:

1 can diced tomatoes (I prefer the Muir Glen brand since they use enamel lined cans instead of plastic)
3 cloves garlic
basil, rosemary, powdered onion, thyme, oregano, and bay leaf
olive oil
parmesan cheese
2-4oz shredded cheddar cheese (optional)
1/2 lb spaghetti

Directions:
Peel and slice 3 cloves garlic. Combine tomatoes and herbs. Experiment to figure out what ratio of herbs to use. I prefer extra basil myself. Heat olive oil and garlic in sauce pan under medium heat. Just before garlic browns add tomato mix to sauce pan. Stir sauce to ensure even distribution of herbs. Turn heat to low and let simmer 10-20 minutes.

Top boiled noodles with shredded cheddar then add tomato sauce. Use parmesan to taste.

This is one of my favorites as it can be ready in less than 30 minutes and provides two meals for about 5 dollars of ingredients.


---


Cod with Sautéed Vegetables & Wild Rice submitted by Eugenio Minoli

Cod (2- 6 oz filets): coat with 1 Tbsp olive oil, salt and pepper.

Bake at 350 degrees for 20 minutes. In a sauté pan, add chopped carrots, zucchini, onion, mushrooms, and garlic and stir-fry for 5 minutes.

Put cod with sautéed veggies in over for 5 minutes. Serve with wild rice.

Put 2 cups wild rice and water in pot and simmer for 35-40 minutes. Add 3/4 cup freshly toasted cashews and diced scallions to rice. Season with salt and pepper.

Will make around 4 servings.


---


Corned Beef and Cabbage submitted by Freeacre

Is there anything more bland than corned beef and cabbage for St. Patrick's Day? But, I found some ways to pump it up, given that it is really cheap now - two for one specials, etc.

Boil the corned beef about 3 hours in a slow cooker until very tender. Then add red & yellow potatoes, onions, turnips, and cabbage adding a package of Onion Soup spice mix in addition to the spices that come with it, and boil some more until the vegetables are tender, for openers. That's a little more tasty than just the plain recipe.

But then, I baked a really good loaf of Pumpernickel bread to make corned beef sandwiches. Just added Dijon mustard and sweet pickles. Could have made Reuben sandwiches with sour kraut and melted cheese on top, too.

Then, the next day, I took out the trusty old-fashioned meat grinder, and ground up the rest of the corned beef brisket and the left-over boiled potatoes and made corned beef hash. Along with toast and eggs, it makes a great brunch.

So, that's 3 different meals with one corned beef brisket - and the free one is still in the freezer!


---


Cornbread Meatloaf and Meatless Cream Soup submitted by Bob Waldrop

I have a lot of recipes, in fact, I have an online almanac -- the Better Times Almanac of Useful Information, originally printed (10,000 copies, 32 page tabloid) and given away for free, mostly in baskets of food we delivered to the poor.

I recently made this Cornbread Meatloaf and it was very good.

Ingredients:
Bacon ends and pieces
1 onion
1/2 lb hamburger
1-2 cups cooked beans, or 1 can beans or 1 can refried beans
cornbread batter
1 cup shredded cheese (optional)
3 small cans (8 ounce) tomato sauce

Directions:
Fry bacon and remove from pan, cutting it in pieces. Chop onion and fry with the hamburger, drain grease. Add bacon pieces to hamburger/onion mixture, pour tomato sauce over it and add 1 soup can water or beef stock (or simply add the liquid from the beans), beans, your favorite spices and herbs, mix well (I add garlic powder, chili powder and habanero salsa). Simmer this mixture slowly about 15 minutes, stirring often. If it gets thick, add a little water. Add cheese, stirring well. Put in casserole dish (or if you are using a cast iron skillet, leave in pan) and pour your favorite recipe of Corn Bread batter over the top. Heat in 400 degree oven until cornbread is done, about 20-30 minutes. Variations: For vegetarian, eliminate bacon and hamburger and use extra beans.

I also made a Meatless Cream Soup last Friday that turned out pretty good:

Ingredients:
4 potatoes, diced in small pieces
2 carrots, shredded
1/2 large onion (or 1 medium onion), diced in small pieces
1/2 head of cabbage, chopped finely
1 cup uncooked bulgar (I make my own bulgar from wheat, directions for this at make your own bulgar )

Directions:
Put water in pan and add potatoes, bulgar, and cabbage. Put shredded carrots and chopped onions in skillet, fry in a bit of oil until the onions are clear, add cooked carrots/onions to the soup pot. I seasoned it with salt, pepper, and garlic. Bring it to a boil, then turn down to a slow simmer. I was busy so I let this simmer for an hour, but you could probably get away with only simmering it for a half hour, or you could put it in a crock-pot for a few hours. Then I used a mixer to puree the soup, added a cup of milk and a handful of shredded cheese, warmed it back up, and served it with rye bread toast.

Bob Waldrop, Oklahoma City

energyconservationinfo.org
bettertimesinfo.org
bulgarbugle.com
oklahomafood.coop


---


Three Bean Casserole submitted by Constance Basset

Ingredients:
8 oz bacon diced
2 medium onions chopped
1/2 cup packed brown sugar
1/2 cup apple cider vinegar
1 t. dry mustard
1 16 oz can baked pork & beans
1 16 oz can dark kidney beans, drained
1 16 oz can garbonzo beans, drained
1 16 oz can green lima beans, drained
1 16 oz can yellow wax beans, drained


Directions:
Fry bacon and onions over medium heat until tneder and not brown. Stir in sugar, mustard and vinegar. Reduce heat to low and simmer covered for about 20 minutes. Mix in beans and stir gently. Pour into a casserole dish and cover. Bake for one hour at 350.


---


Split Pea Soup submitted by Alberto Farinas

If you are vegetarian, you can omit the ham. Or for variations, you can substitute the ham with chopped and cubed pancetta, chorizo or smoked sausage.

If you like a little heat, chop a jalapeño as fine as you can and mix it into the base with the onions and peppers and or add 1/2 teaspoon of crushed red pepper to the base.

Ingredients:
1/4 cup olive oil
2 bags of Goya Split Peas
1 bag diced ham
3 cloves garlic, chopped fine
2 carrots, chopped and cubed small
1 large onion, chopped med/coarse
1/2 red pepper, chopped small
1 sml can tomato sauce
1 teaspoon of oregano flakes
Salt and Pepper


Directions:
Use a Dutch Oven style pot

Heat 3 tablespoons of oil (medium heat) and place ham in the oil to render liquid out of ham.

Pour the remaining oil in the pan along with garlic, onion, red pepper and carrots.

Add oregano.

Add salt and pepper.

Sweat the ingredients, on medium heat, until the onion and peppers become translucent.

Add tomato sauce, reduce heat to low and simmer for 10 minutes stirring occasionally.

Add both bags of Split Peas and stir them into the base.

Add water to approximately 1/2 inch to the top of the pot, stir, turn the to high.

Once the ingredients start to boil, reduce the heat to low and continue to stir every 10 to 15 minutes for about an hour until done.

Serve in a bowl with fresh croutons, grated parmesan and a drizzle of virgin olive oil.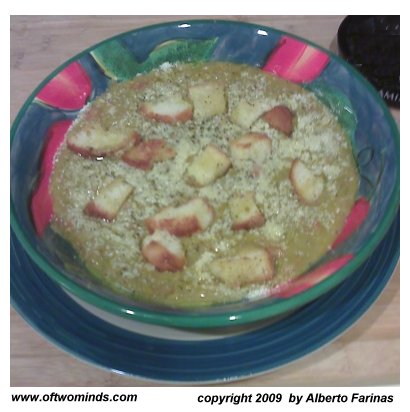 ---


Turkey Soup submitted by Dustin Brace

After the turkey has been cleaned of meat:

1 cup of leftover gravy (if any)
1 cup of cornbread stuffing
3 cups of mashed potatoes
about 1/4 tsp browning sauce


Boil turkey carcass (with about 98% of the meat removed) for about 3-4 hours with 1 cup of chicken stock, along with about 1 cup of turkey drippings. I made about 5 gallons of soup. I did brine the turkey for about 19 hours before roasting it.

Turkey Brine:

1 cup kosher salt
1/2 cup light brown sugar
1 gallon vegetable stock
1 tablespoon black peppercorns
1/2 tablespoon allspice berries
1/2 tablespoon candied ginger
1 gallon iced water

Combine all brine ingredients, except ice water, in a stockpot, and bring to a boil. Stir to dissolve solids, then remove from heat, cool to room temperature, and refrigerate until thoroughly chilled.

Early on the day of cooking, (or late the night before) combine the brine and ice water in a clean 5-gallon bucket. Place thawed turkey breast side down in brine, cover, and refrigerate or set in cool area (like a basement) for 6+ hours. Turn turkey over once, half way through brining.


---


Rhubarb Salsa submitted by Pam & Pat

Here's something unusual to do with all that free rhubarb that grows in the backyard: Rhubarb Salsa

Ingredients:

1 cup granulated sugar
½ cup water
2 tablespoons finely shredded orange peel
6 cups Rhubarb, chopped ½ inch thick
½ cup green bell pepper, diced
¼ cup sweet onion, finely chopped
? cup red onion, finely chopped
1 jalapeno pepper, seeded and minced
2 tablespoons honey
2 tablespoons lemon juice
1 teaspoon fresh ginger, grated


Directions:

In a medium, non-stick sauce pan, combine sugar, water and orange peel. Bring to a boil.

Add chopped Rhubarb and reduce heat to medium. Simmer gently until the Rhubarb is tender, about 10 minutes.

Remove from the heat and allow to cool to room temperature.

When cool, add remaining ingredients. Mix well.

Serve chilled or at room temperature with your favorite chips.


---
Freeacre's notes on eating cheap and healthy
I thought I'd send you my take on eating cheap and healthy. I tend to observe that pretty much all cultures have good, cheap, "peasant" food that most of us can diversify our diets with. Just to satisfy my own peculiar sensibilities, I also try to express my solidarity with whatever country we are currently occupying or bombing or exploiting in some way by eating their traditional dishes as well. During the current resource wars, for instance, I've eaten a lot of Tabouli and hummas. (See thegutsygourmet.net)

In general, though, I find that it is useful to not just focus on recipes, but on the infrastructure that lends itself to eating cheaper and healthier and more local. For instance, I bought a chicken on sale for $3.88. Actually, I bought several of them and froze them for future use. I can do that because last year we purchased a freezer that is energy efficient ($3 per month to run) and put it on our porch.

I roasted a chicken. The first night my husband and I each ate a leg and thigh. The next day, I attended a meeting that required a sack lunch. I made a chicken salad from the previous nights leftover chicken and salad, and wrapped it in a spinach wrap. So, the lunch cost me nothing, essentially, and was good. The next day, I made polenta (a corn grit mush which is really tasty). I made a layer of polenta at the bottom and then put the rest of the chicken breast (diced) on top. Then, diced up a couple of tomatoes, some onions, and a partial can of diced green chilies (added some chili powder & garlic salt & cayenne pepper) to make salsa, and put that over the chicken. Next I opened a can of black beans (seasoned with seasoned salt, red pepper, and spread it over the salsa. Then, grated some Monterey Jack cheese, put it over the top, and baked it until everything was melty and yummy.

Anyway, the point is not so much the recipe, but the fact that the $3.88 chicken fed us five meals.

If you figure out what type of foods you like to eat in general, then purchase many of the ingredients ahead of time when they are on sale or buy in bulk, then you only have to add one or two items, maybe, to put it together. Then, you make another meal or two from the leftovers. Roast some lamb. Then use it as a roast, shish-kabobs, and a stew.

Roast pork loin. The first night, you can serve slices with salad and potatoes or something. The next night, combine it with vegetables in a Chinese stir fry. If you still have some left, you can make it into frajitas.

Have lots of differing spices, so you can go Italian, Chinese, Mexican, Indian, Thai, French, Iranian, or whatever, to give you lots of variety from the same staple ingredient.

The same with vegetables. Keep in mind that they can be used in so many differing ways: salads, sandwiches, wraps, stir-fry, soups, stews, even breads, and lastly, food for chickens.

A bread machine, dehydrator, smoker, freezer, and rototiller are indispensable infrastructure items. Additionally, we keep five laying hens in our backyard. So, we get over two dozen eggs per week from them that we both use and gift and trade. For instance, a neighbor who we provide eggs for just called and told me he is bringing me some trout that he just caught. This happens all the time. I make homemade bread and bagels, too. I give these away, and I get back rhubarb, vegetables, venison, elk, and all sorts of things. A chick costs $3 and is very cheap to raise.

We also grow almost all of our vegetables with a combination of garden and greenhouse, despite living in the high desert of central Oregon. Since May, I have not had to purchase any salad greens. European mesclun mix salad greens come from the greenhouse. Soon they will be joined by green beans, white scallop summer squash, cucumbers (from which I can make pickles) and 5 kinds of tomatoes. Kale, chard, garlic, carrots, beets, peas, onions, and broccoli will come from the garden. Last year we blanched and froze vegetables from the garden that lasted until April. We also make beef and turkey jerky for far less than one can buy it in a store for. It also tastes better and has no chemicals in it.

All this is organic. We never throw away any organic thing. If we don't eat it, we put it in the compost heap, where the chickens have at it. They eat the leftovers and vegetable parings, then they provide the chicken poop with which we fertilize the garden. We also have friends with horses.

You get the idea. Nothing goes to waste. We have extra cardboard boxes or trimmed trees, or something that requires burning. After it is burned, we collect the ashes and put them in the garden or compost. Helps to balance our acidic soil.

Despite the fact that I make no money, and am living on $1,000 a month from my savings (which is running out, but next year I'll be able to get social security - I hope), we've never had it so good, foodwise. And, since we've been anticipating the economic collapse, we have been stocking up on food for years now, and now have about a year's worth ahead. Just as an experiment, we decided to not purchase anything at a store for the month of January 2008. Piece of cake. I only ran out of vanilla extract. This has lead to great peace of mind.

Anyway, I am not trying to brag, but I am attempting to turn you on to what can be done when money is tight and you don't want to be eating toxic commercial crap. Our efforts at becoming food sustainable have led to unexpected friendships and networking of all sorts. This has been an unanticipated reward.

This is our alternative working class "retirement." Rather than bitching about being on "a fixed income," playing Bingo, and going to Denny's, we are gardening and talking to the chickens, and having a good time in our own freedom-loving, Monsanto-hating, doomer, survivalist, anarchist way.
CHS kitchen-test note/disproving the propaganda that real food is "too expensive" and fast-food is "affordable": I bought the ingredients for Black Bean Chili (Summer/Fall 2008) at one of the local "Mexican" markets which cater to the Hispanic population. The total cost was:
1 pound black beans: $1.19
2 medium onions: $ .36 ($.33/pound)
garlic: $ .15 (5 heads for $1.30)
jalapeno chiles: $ .20
1 can tomatoes: $1.00
oil, cilantro, etc.: about $ .30

Total: $3.20
For 6 servings, that's $.53/serving. Add $2 for 4 dozen tortillas, slice up six medium raw carrots (12 oz.) for crunch and vitamins, and that brings it up to $5.60 or $ .93/serving.
If you wanted to add a pound of meat, and you buy on sale, then add another $3.40 or so for either beef (lean cut) or ground turkey. That boosts the cost to about $9.00 or $1.50 per serving for a hearty, protein- and fiber-rich meal.
Compare that to the cost of a supposedly "cheap" (and horribly unhealthy) fast-food "value" meal of burger, fries and a sugar-bomb soda for six: in California, over $30. And yet all we hear is how "poor people" (like me?) "can't afford healthy food." What rot! 93 cents beats the heck out of any fast-food garbage, it's easy to make and the ingredients are readily available virtually anywhere.
FROM WALLET TO WAISTLINE: THE HIDDEN COSTS OF "SUPER SIZING" (Prevention Institute)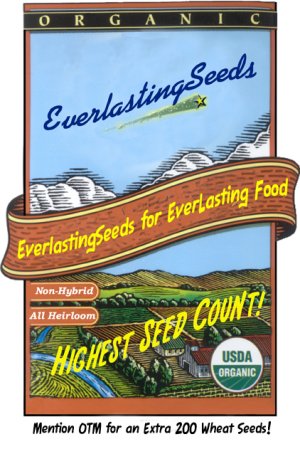 "A healthy homecooked family meal and a home garden are revolutionary acts." (CHS, May 2008)


Metric/U.S. Measurement equivalents